FYR Macedonia: opposition supporters turn up heat on prime minister
Comments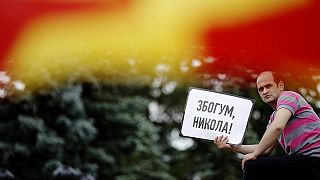 Hundreds of opposition supporters are continuing to camp outside a government building in Skopje, capital of the former Yugoslav Republic of Macedonia.
They are calling for Prime Minister Nikola Gruevski to go.
It comes in the wake of a long-running wiretap scandal and a recent shootout between police and ethnic Albanian gunmen that left 18 dead in a border town.
"We're insistent. We demand the prime minister and the entire government resigns. We're not going away until they tell us that's he gone," said one of the opposition supporters.
The demonstrators pitched their tents after an opposition rally on Sunday, which attracted tens of thousands of people.
Far from the thousands promised but a small group remain camped out outside the govt building in #Skopje#Macedoniapic.twitter.com/jMwI0HqHLJ

— Lizzie Phelan (@LizziePhelan) Mayo 18, 2015
A pro-government protest has been called for Monday evening in front of the parliament building. It is less than a kilometre from where the opposition activists are camped out.
Opposition supporters say they will do everything they can to stop it taking place.
The crisis rocking Gruevski's nine-year conservative rule is the worst since Western diplomacy dragged the country from the brink of all-out civil war during an ethnic Albanian insurgency in 2001.
Since February, Gruevski has faced a wave of embarrassing revelations against him and his ministers, contained in taped conversations that appear to expose tight government control over journalists, judges and the conduct of elections.