Tatars remember WW2 Crimea deportation victims
Comments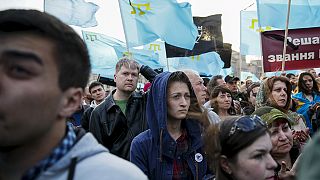 Ceremonies marking the 71st anniversary of the deportation of Tatars have taken place in both Kyiv and Crimea.
In 1944 almost 200,000 people were forced from their homes on the Black Sea peninsular to Uzbekistan by Josef Stalin on suspicion of aiding Nazi invaders.
Today's commemorations have become politically charged in the light of last year's annexation by Russia.
In Kyiv the commemorations were held in Maiden Square and at the National Opera.
The majority of Crimean Tatars opposed the annexation and boycotted the referendum on joining Russia.
The former head of the now closed Crimean Tatar parliament Refat Chubarov also gave an address. He talked of a state aggressor which has started open repressions aimed at the physical and spiritual destruction of the indigenous people of Crimea.
While President Putin has made a good will gesture towards Crimean Tatars by signing a decree guaranteeing them autonomous rights, Tatars used the deportation anniversary to protest against what they see as an "increasingly restricted life":
http://www.theguardian.com/world/2014/nov/25/-sp-russia-crimean-tatars-soviet-ukraine