Aid workers face 'complex emergency' as Burundians flee unrest
Comments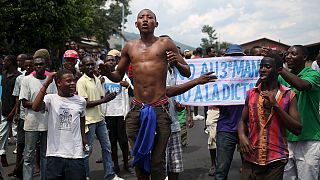 There is no let up in the protests against Burundi's President Pierre Nkurunziza.
It's quite a complex emergency.
Police have reportedly fired tear gas and beaten demonstrators, as anger continues to rage over his bid for a third term in office – which critics say is unconstitutional.
Fearing for their lives, Burundians are fleeing in their thousands.
Some are arriving at a camp in Rwanda, bearing what few possessions they could carry.
Others are travelling to Tanzania. Conditions in this makeshift camp are dire, with families forced to sleep on dirt and plastic sheets – their only protection from the elements.
"We have around 64-thousand Burundians who have fled from Burundi in recent days, and they are distributed in different points," said Kahido Maina, a UNHCR health officer in Tanzania.
"So there's quite a number of people, we understand there could be more coming. There are many at the border, we are not sure of the numbers. But yes, it's quite a complex emergency."
The UN's refugee agency estimates that more than 110-thousand Burundians have fled their homeland so far.
With the crisis continuing, the fear is that camps could be further overwhelmed.