Afghanistan: 11 police jailed for Farkhunda killing inaction
Comments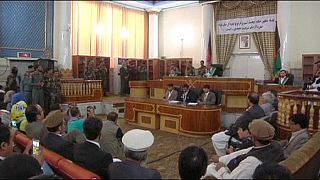 Eleven policemen in Afghanistan have been sentenced to one year in jail for failing to prevent the mob killing of a woman in Kabul.
Eight others officers were freed due to lack of evidence.
In March a 27-year-old woman named Farkhunda was accused of burning a copy of the Islamic holy book the Koran.
She was dragged through the streets and beaten before being set on fire.
It later transpired the accusation was completely false.
Earlier in May the same judge, Safiullah Mujadidi, sentenced four men to death and gave out 16 year jail terms to eight men who had taken part.
Some of those arrested were tracked down after posting video on social media and bragging about taking part in the killing.
The killing sparked mass outrage and prompted rare protests against religious extremism and violence against women in Afghanistan.
The country remains deeply religiously conservative 13 years after the Taliban's hardline Islamic regime was ousted.