US Marine killed and dozens hurt in Hawaii training exercise
Comments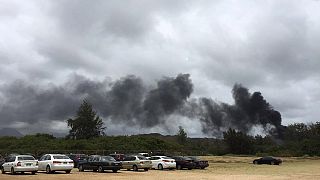 A US marine has been killed and up to a dozen others hurt in a plane crash in Hawaii.
The aircraft they were travelling in was a tilt-rotor MV-22 Osprey, which can take off like a helicopter but also has wings like an aeroplane.
It suffered what's known as a "hard landing" during a training exercise near Bellows Air Force station.
The accident happened at 11.40 local time on Sunday. Up to ten other marines were also taken to hospital. Authorities say the cause of the crash is unknown and that an investigation is underway.