Nine killed in Texas biker gang shootout
Comments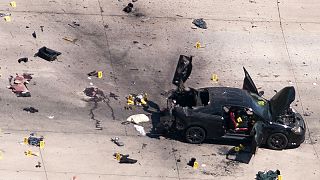 Nine people have been killed and 18 others injured in a shoot out at a restaurant in Texas.
The gun battle between rival biker gangs reportedly began as an argument over parking spaces.
Witnesses said the fight at the Twin Peaks Bar and Grill in Waco, started as a punch up and quickly turned into something resembling a war zone.
"You could tell that there were numerous rounds exchanged," said Sergeant Patrick Swanton of Waco Police Department.
"I saw everything from pistol casings, to rifle casings, I saw knives, I saw a club. It was just a very violent crime scene.
"There were pools of blood, there were streams of blood, there was blood splatter, where people were trying to leave the scene that were injured. Probably one of the most violent, gruesome crime scenes I have seen in 35 years of service."
Up to five biker gangs had been attending a meeting at the restaurant and the police had been aware.
When the police saw shots fired they moved in, some of them also shooting weapons.
All of those killed were from the Banditos or Cossacks gangs according to AP, and no civilians or police were reported injured.