'The Leaving of Liverpool' Steven Gerrard plays his last match at Anfield
Comments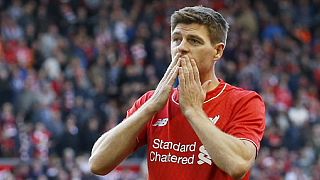 Steven Gerrard has made his final appearance at Anfield after more than 700 matches for Liverpool.
Gerrard was given an emotional standing ovation before and after the match.
The Liverpool captain addressed the crowd after the final whistle telling supporters that after 17-years as a Liverpool player "He was dreading the moment."
Gerrard is leaving Liverpool at the end of the season to play for LA Galaxy in the United States.
During an extraordinary career Gerrard has won the Champions League, the UEFA Cup, two FA Cups and three League Cups.
He has played 114 for times for England.
There is no sentiment in football and in his final game on home turf Crystal Palace beat Liverpool 3-1.
The result will fade into insignificance memories of Stevie G will live long on Merseyside.