Pope praises Abbas as 'angel of peace' before canonisation of Palestinian nuns
Comments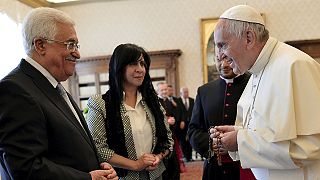 Pope Francis met Palestinian President Mahmoud Abbas on Saturday and called him an 'angel of peace'.
The meeting at the Vatican came days after it announced a treaty that makes formal its recognition of the State of Palestine and hours before a ceremony Abbas will attend to make saints of two Palestinian-born nuns.
He and Francis discussed the Middle East peace process and Abbas presented the Pope with relics of the two new saints.
Compliments and gifts are a sign of closer ties.
During a visit to the Middle East a year ago, Francis delighted his Palestinian hosts by referring to the "state of Palestine" and giving support for their bid for full statehood recognition.
This weekend St Peter's Square will see the canonisation of 19th and 20th century Palestinian-born nuns Mariam Baouardy and Marie Alphonsine Ghattas in an historic ceremony.