Germany: Two killed and 20 injured in train crash
Comments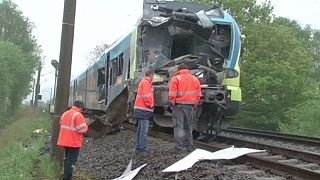 Two people were killed on Saturday and 20 more injured in a collision between a packed passenger train and a farm vehicle in western Germany.
There was a big bang and glass was shattering behind me
At least three of those hurt are in a serious condition after the crash on a level crossing near the town of Ibbenbueren.
It is thought a tank containing manure had got stuck on the railway line.
The driver of the farm vehicle, in shock but unhurt, tried to prevent the tragedy by attracting the attention of the train driver.
Passengers who started their journey in the city of Osnabrueck ended it in a field.
"I tried to help," said one survivor.
"I heard the driver screaming: 'Open the door!' And then I saw he was lying, probably dead behind the door, with a lot of debris lying around."
"I only know that we were braking suddenly," another passenger said.
"After that, there was a big bang and glass was shattering behind me."
The train, carrying around 40 people, eventually came to a standstill on the tracks some 300 metres away from the crash site.