Jury sentences Boston Marathon bomber Dzhokhar Tsarnaev to death
Comments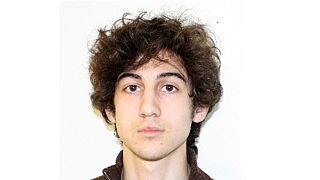 A US jury has sentenced Boston marathon bomber Dzhokhar Tsarnaev to death.
Three people were killed and more than 260 others injured when he and his brother Tamerlan placed shrapnel-packed pressure-cooker bombs near the finish line of the marathon in 2013.
A police officer was also killed during their attempted getaway.
The bombing was one of he highest profile attacks on US soil since the 11 September 2011 attacks.
Prosecutors described Dzhokhar, an ethnic Chechen, as an adherent of al Qaeda's militant Islamist views – who carried out the attack as an act of retribution for the US military campaigns in Muslim-dominated countries.
Defence attorneys opened the trial with the blunt admission that Dzhokhar committed all the crimes he was accused of. But they argued that he was a junior partner in a scheme hatched and driven by 26-year-old Tamerlan.
Tamerlan died after a gunfight, which ended when Dzhokhar ran him over in a stolen car.
The jury's decision does not mean that death is imminent for the former high school wrestler.
A US district judge will formally sentence Dzhokhar to death at a yet-to-be-scheduled hearing, sometime in the next few months. Defence attorneys are likely to appeal the decision.