Controversial drilling rig arrives in Seattle port under black cloud
Comments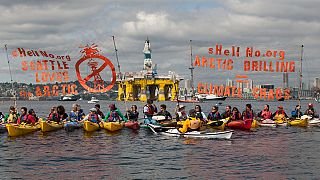 The first of two drilling rigs, destined for Arctic oil exploration, has arrived in the US city of Seattle – much to the anger of environmental activists.
Royal Dutch Shell is planning to use the port as an equipment base, as it sets it sights on resuming work in the Chukchi Sea off Alaska, where it had not drilled since a mishap-filled 2012 season.
Campaigners and some Seattle city leaders are worried about ecological damage.
"People come to Seattle to live here because they're so green," said Mike O'Brien, a member of Seattle City Council.
"To have this monstrosity, this monument to the hubris of the oil industry, parked in our waterfront for eight months a year, is completely inconsistent with all the values that we work to protect here in Seattle."
Environmental activists say drilling in the delicate Arctic ecosystem could lead to an ecological disaster.
Campaign groups also contend that weather conditions make it impossible to safely drill in the remote Arctic, a region that is regarded as helping to regulate the global climate because of its vast layers of sea ice.
Demonstrators took to the water in kayaks as the drilling rig arrived in Seattle.
"I am here to make sure that the arrival of the Shell rigs doesn't go unmarked and that people understand what it means to be complicit in Arctic drilling like Seattle is right now," said protester Emily Johnston.
Officials have urged Seattle port to reconsider its lease to Shell, an agreement that is said to be in violation of its city permit.