And also... Buried with animals, gay-friendly traffic lights and literally throwing money away
Comments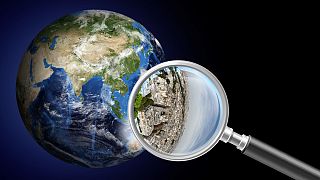 Every Friday journalists from euronews' various language teams choose a selection of stories from around the globe, which may not have made the headlines, but we found interesting nonetheless.
Iran: Tehran gets a facelift
The Iranian capital's billboards have had a makeover. Adverts for household items, food-stuffs and various gadgets have been replaced with works of art by both local and foreign artists.
Turning the capital into an open-air gallery is an attempt, Tehran's mayor says, to encourage people to visit museums.
Tehran swaps 'death to America' billboards for Picasso and Matisse via @SaeedKDhttp://t.co/LMpCWldAdLpic.twitter.com/vLjR9MS2PY

— Jamie Wilson (@wilsonjamie) Mayo 7, 2015
Photo gallery from Mehr News agency
Italy: Divine intervention?
Former footballer Diego Maradona is to face the Rome courts on charges of defamation.
Known as the 'Hand of God' after being accused of handball on a number occasions, the Argentinian is now suspected of defaming Attilio Befera, the former president of the Italian tax collection agency Equitalia.
In interviews the former Naples player is quoted as saying he was the "victim of persecution, based on false documents and irregular procedures" on the part of Equitalia, while he was commenting on a 40-million-euro tax dispute dating back to deals made in the 1980s.
#Maradona a processo, accusato di diffamazione a Befera (#Equitalia) http://t.co/LKTPdqosstpic.twitter.com/ut7lW4Ur1l

— Report (@reportrai3) May 13, 2015
Greece: Throwing your money away
Austerity measures may be in place in Greece, but it seems not everybody is taking them seriously.
Greek police have launched an investigation after euro banknotes of denominations as high as 50, 100 and 500 were found floating down a river in the central town of Trikala.
Locals reported the incident, which police initially put down to a robbery gone wrong. A local news site later reported a 22-year-old had stolen around 2,000 euros from his father following a dispute. Locals and his father then reportedly watched as his son threw the notes into the Letheos river.
Germany: Humans and animals united for eternity
Germany's Cemetery Association is now allowing humans to be buried alongside their pets.
Starting from June, 2015, two cemeteries will allow animal lovers to rest in peace with their loyal companions.
Austria: Same-sex traffic lights
Ahead of the Eurovision Song Contest, hosts Vienna have unveiled some 'gay-friendly' traffic lights. The Austrian capital now has dozens of lights portraying all-male or all-female couples in place of the usual red or green man warning pedestrians when it is safe to cross the road.
It's a campaign intended to present Vienna as a welcoming and open-minded city, while also improving road-safety, a spokesperson from the local lighting department told Reuters news agency. Once the campaign ends, data will be collected to determine its success.
SOURCES
Greece": http://www.trikalanews.gr/panikos_sta_trikala_apo_xartonomismata_na_epipleoun_stin_koiti_tou_li8aiou_potamou.html