Nepalese PM visits quake zone and takes woman to hospital in his helicopter
Comments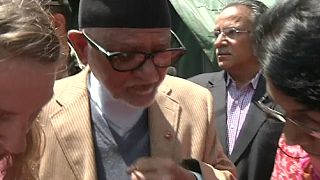 The Nepalese Prime Minister has visited some of the areas worst affected by the country's two massive earthquakes.
And someone's life may have been saved by his visit.
A seriously injured woman was transported to a hospital in the prime minister's helicopter, after British paramedics pleaded with officials to help save her.
Sushil Koirala was being briefed on the rescue effort following a 7.3 magnitude quake on Tuesday.
It added to the misery for thousands of people who were barely starting to recover from the massive 7.8 magnitude quake on April the 25th.
One resident said: "Before, on April 25, I was not feeling so scared but now after May 12 (second earthquake) it's become frequent, now I'm getting a little bit of fear in my body … I'm scared about it."
Some 100 people died in this week's tremor, on top of the more than 8,000 who died in the first quake, and an untold number of people have been injured.
Displaced and distraught, women and girls in #Nepal need all the help they can get http://t.co/lT0GDk4rnH#NepalQuakepic.twitter.com/SkxxE5ze3I

—

UNFPA

(@UNFPA) May 14, 2015
Blog post from #Nepal: "The only thing left standing here are crops" http://t.co/9rSkf8Jw1T#EarthquakeAgainpic.twitter.com/7ApQDy9PQT

— EU Humanitarian Aid (@eu_echo) May 14, 2015
#Nepal: WFP initiates a rapid assessment mission as the 2nd massive #quake hits the country http://t.co/3wEdOCkfUCpic.twitter.com/bdJSabS4Ph

— World Food Programme (@WFP) May 14, 2015
In the wake of two #Nepal earthquakes, many children & families are staying outdoors; buildings no longer feel safe. pic.twitter.com/bNiYf8kor4

— Save the Children UK (@savechildrenuk) May 14, 2015