Indonesia urged to stop two-finger virginity tests for military
Comments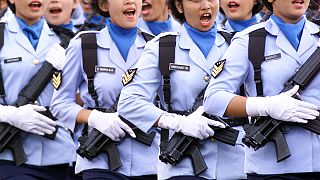 Campaigners are calling on Indonesia to end the practice of women applicants to the military undergoing a "two finger" virginity test.
Human Rights Watch (HRW) wants President Joko Widodo to abolish the tests on the grounds they are "discriminatory and invasive".
One applicant, who spoke out, said she was astonished to find that the tests were carried out by men.
But Major-General Fuad Basya, speaking for the Indonesian military, defended the tests, which he said takes place to ensure the hymen is intact, and to make sure they recruit the "best people both physically and mentally" to the armed forces.
Doctors would know, he said, if the candidates had lost their hymen due to an accident or another reason. She would then be required to explain why her hymen was not intact.
"If it is due to an accident we can still consider it but if it's due to another reason, well, we cannot accept her," said Major-General Basya.
Because military personnel carry guns to guard Indonesia's integrity and sovereignty they were required to be mentally fit, he said.
"It's very important," he added.
#Indonesia: Military Imposing #VirginityTesthttp://t.co/xjo9STB04y@HuffPostWomen@guardian@rockygerung@jurnalperempuan@EWDolan

— Helga Worotitjan (@HelgaWorottjan) May 14, 2015
HRW spoke to 11 women who had been subjected to the tests. All described the ordeal as "painful, embarrassing and traumatic".
One said: "What shocked me was finding out that the doctor who was to perform the test was a man. I had mixed feelings. I felt humiliated. It was very tense. It's all mixed up. I hope the future medical examination excludes 'virginity test.' It's against the rights of every woman."
Nisha Varia, women's rights advocacy director for HRW, said: "The Indonesian armed forces should recognise that harmful and humiliating 'virginity tests' on women recruits does nothing to strengthen national security."