Fire kills dozens in Manila slipper factory fire
Comments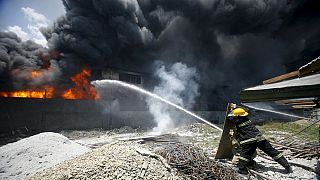 At least 31 workers are said to have died after a fire tore through their factory in the Philippine capital Manila on Wednesday.
Dozens more were missing and feared dead, according to local government officials.
The fire protection service says it is trying to establish the cause of the blaze at the two-storey site, which manufactured rubber slippers and flip-flops.
One fireman has said there was a person welding near the main entrance just before an explosion. He added that flammable materials and chemicals inside the factory helped spread the flames.
Between 200 and 300 people work at the factory, with 65 still reported missing. Many may have become trapped under the collapsed second floor and roof.
Video courtesy of Joyce Milan-Brito Agbu via Facebook
MALAKING

SUNOG

DITO

SA

VALENZUELA

TASKFORCECHARLIE, i've seen and heard the actual explosion before, late morning over looking from our house. we've gone there sa mismong site ng nsusunog and have taken this actual video knina lng, up to this moment malaki p rn po ang usok. Video taken and uploaded by: Ivy Joyce Milan-Brito Agbu(may dalawang pong nagsasalita s video, hindi po totoo yun. mga epal lang.) UNTV – Your Public Service Channel Tatalon St. Ugong

Posted by Ivy Joyce Milan-Brito Agbu on Tuesday, May 12, 2015
TASKFORCECHARLIE, i've seen and heard the actual explosion before, late morning over looking from our house. we've gone there sa mismong site ng nsusunog and have taken this actual video knina lng, up to this moment malaki p rn po ang usok. Video taken and uploaded by: Ivy Joyce Milan-Brito Agbu UNTV – Your Public Service Channel UNTV 37

Posted by Ivy Joyce Milan-Brito Agbu on Tuesday, May 12, 2015