Army general attempts coup against Burundi's president
Comments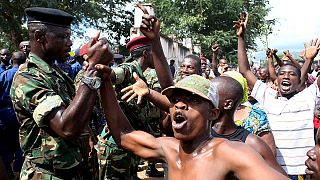 An army general in Burundi says he has dismissed the country's president.
Godefroid Niyombare says he has also sacked the government of Pierre Nkurunziza.
A presidential aide, however, dismissed the reports as a 'joke'.
President Nkurunziza is out of the country, attending a summit of East African leaders in Tanzania.
Demonstrations had been taking place for weeks over the president's plans to run for a third five-year term.
The constitution and a peace plan allow for two presidential terms.
The army general says he is now working on the formation of a transitional government ahead of new elections.
Niyombare, who is a former ambassador to Kenya, spoke to reporters at a military barracks in Bujumbura.
"Regarding President Nkurunziza's arrogance and defiance of the international community, which advised him to respect the constitution and Arusha peace agreement, the committee for the establishment of the national concord decide: President Nkurunziza is dismissed, his government is dismissed too," he said.
Niyombare was surrounded by several other senior army and police figures, including a former defence minister.
Burundi police use 'live ammunition and tear gas' against protesters as general announces coup attempt http://t.co/BbuRYHDbg2

— The Independent (@Independent) May 13, 2015
Military general in Burundi announces coup as crowds celebrate http://t.co/RjAKKXsm2Gpic.twitter.com/3GknZH7tzW

— Huffington Post (@HuffingtonPost) May 13, 2015
A Burundi army general says President Pierre Nkurunziza has been ousted: http://t.co/4ID6ji1Gyjpic.twitter.com/5xfrwrCv15

— Wall Street Journal (@WSJ) May 13, 2015
MORE: During 3 weeks of unrest, the military in Burundi has been acting as buffer between police and protesters: http://t.co/lUUTEwGQoQ

— The Associated Press (@AP) May 13, 2015