Panic in Kathmandu and New Delhi as new quake strikes
Comments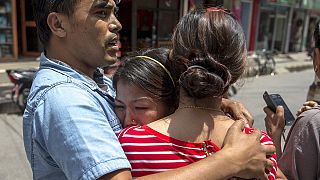 The new earthquake sent people in the Nepalese capital Kathmandu running out into open ground.
They had already been staying in temporary housing and tents since the original devastating quake last month that killed at least 8,000 people.
Volunteers ushered people onto the open field.
"I think it's a really big hit of earthquake, because the gate has also slanted, and every pole was moving like that, like they will fall again, that's the thing right now," said volunteer Sony Southen.
The quake was followed by at least half a dozen aftershocks, including one as big as 6.3.
Away from the cities there are reports of landslides.
Beyond Nepal's borders the earthquake was felt in Chinese-controlled Tibet where buildings collapsed – and in India where several deaths have been reported in the north.
"We were in class when another student entered the room screaming 'earthquake'. We thought he was joking but we realised that he was speaking the truth. So we rushed out," said Vinod, a New Delhi resident.
He added that the tremor only lasted for one or two seconds.
An official from India's Meteorological Department said aftershocks were "likely to continue for a while".
International search and rescue teams, some of whom had been on their way back from Nepal, may now be redeployed.