Monkey business: theft of rare primates from French zoo mystifies police
Comments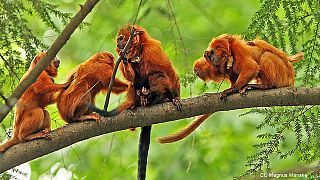 A zoo in France is appealing for the return of 17 rare monkeys stolen by suspected animal traffickers over the weekend.
These are extremely fragile animals that need specific care.
The seven "golden lion tamarins":https://nationalzoo.si.edu/SCBI/EndangeredSpecies/GLTProgram/Learn/ and10 "silver marmosets":http://thewebsiteofeverything.com/animals/mammals/Primates/Callitrichidae/Callithrix/Callithrix-argentata.html were taken from the Beauval Zoo, about 200 km from Paris, by what officials have described as ''experts",who cut through a glass window to break into the enclosure.
The thieves were not picked up by security cameras and also managed to evade extra night patrols.
#Rendezlespetitssinges#rendezlessingespic.twitter.com/IEa5BajxwZ

— ZooParc de Beauval (@zoobeauval) May 12, 2015
Zoo Director Rodolphe Debord said he was very worried for the monkeys' wellbeing: "These are extremely fragile animals that need specific care." He said they are "rare, threatened monkeys," adding that they had specific dietary requirements. One of the animals, which are the property of the Brazilian government, was being treated for an injury to its tail.
Investigators believe the carefully planned operation was carried out by a gang commissioned by a collector or criminals involved in trafficking exotic pets.
Responding to the theft, a France-based environmental group, Robin des Bois said there had been a rise across the world in the smuggling of rare monkeys since 2011.