Women join anti-Nkurunziza protests in Burundi
Comments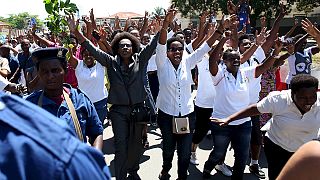 In the latest in a series of protests against Burundi's president, hundreds of women took to the streets of the capital Bujumbara on Sunday calling on him to step down.
They claim Pierre Nkurunziza's bid to run for a third term in office in June's election is unconstitutional – and flouts a peace deal struck after the civil war ended in 2005.
"We are tired. We want peace. We want the respect of our nation and our legal text. Our constitution is sacred. So are the Arusha Peace Accords. They brought us a peace after ten years of war, in which we lost our sons and daughters. We don't want that any more," said protester Ketin Vyabandiyaya.
The constitution limits the president to two terms in office but he argues the first doesn't count as he was chosen by parliament, not elected by the people.
The constitutional court has backed his bid to run again and the president registered with the electoral commission on Friday, defying calls from the international community for him to step down.The African Union has dispatched a diplomatic delegation to Burundi to try to seek a solution.
The government says peaceful protests have degenerated into a violent insurrection marked by atrocities.
Previous protests have resulted in clashes between protesters and police; people deemed to be members of the ruling party's youth wing have been attacked.
Police have used tear gas and water cannon to break up demonstrations, and deny protesters' claims that live rounds have been used.
More than a dozen people have died since the protests began around two weeks ago.
The UN's refugee agency (UNHCR) says more than 50,000 Burundians have fled to neighbouring countries Rwanda, Tanzania and Democratic Republic of the Congo.
The United States has threatened visa bans and sanctions against those taking part in the widespread violence.
Critics of the president say they will keep protesting until he withdraws from the June ballot.