Migrants land in Malaysia as hundreds rescued off Indonesia coast
Comments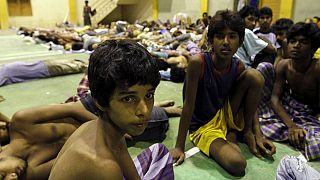 Malaysia has detained more than 1000 Bangladeshi and Rohingya refugees after they arrived on Monday. It comes a day after Indonesian authorities rescued 600 migrants off the coast of Indonesia's Aceh province.
Police in the northwest Malaysian island of Langkawi said three boats arrived in the middle of the night to unload the refugees, but only one boat was discovered after getting stuck on a breakwater.
The nearly 600 migrants rescued off Indonesia were believed to be stranded at sea for almost a week, and some were suffering from starvation.
Myanmar refuses to recognise Rohingya Muslims. Since 2012 more than 100,000 stateless Rohingya have fled violence and poverty by being smuggled on traffickers' boats to Thailand.