Yemen five-day humanitarian truce set to start on Tuesday
Comments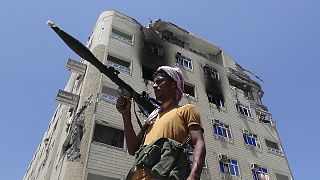 Houthi fighters in Yemen have accepted a five-day cease fire but warned they would respond to any violations.
Saudi Arabia proposed the truce after US Secretary of State John Kerry appealed for a pause in the fighting to allow humanitarian aid into the battle-weary country.
Loud explosions were heard on Sunday morning as Saudi-led forces conducted air raids
targeting the home of former Yemeni President Ali Abdullah Saleh, loyal to the Iran-allied Houthis.
Other strikes targeted Sanaa airport's runway, a Yemini official there said, and Houthi targets in the Sadda district of Ibb in central Yemen, residents there said.
Continutes below
Families now live in the open air in Abs district of Hajjah governorate, Yemen, after fleeing because of the conflict pic.twitter.com/qGAplX31Vk

— UN Refugee Agency (@Refugees) May 9, 2015
Breach of humanitarian law, says UN
Meanwhile the United Nations Humanitarian Coordinator for Yemen said Saudi-led airstrikes on Saada city, where many civilians are trapped, are in breach of international humanitarian law.
"The indiscriminate bombing of populated areas, with or without prior warning, is in contravention of international humanitarian law (IHL)," Johnannes van der Klaaw said in a statement.
"Issuing warnings of impeding attacks does not absolve the parties of their IHL obligations to protect civilians from harm."
The humanitarian ceasefire is due to come into force at 11 p.m. on Tuesday (May 12).
"I need to resume my studies, work & continue my life" Magda fled from #Syria to #Yemen & now to #Djiboutihttps://t.co/BGHP9AwD5e

— UN Refugee Agency (@Refugees) May 9, 2015
The humanitarian crisis in #Yemen is deepening. Access to food & water increasingly difficult. Via UNICEFmena</a> <a href="http://t.co/lhuLDKt1Pv">pic.twitter.com/lhuLDKt1Pv</a></p>&mdash; UNICEF (UNICEF) May 8, 2015