Taliban suicide bomb hits Afghan government bus killing three
Comments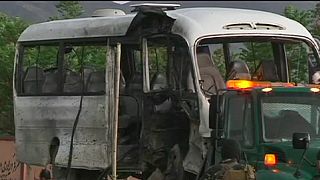 A suicide bomber has attacked a bus carrying Afghan government employees in Kabul.
Three people were killed and 10 others injured.
This is the second attack in the same area within two weeks.
The Taliban has claimed responsibility for the attacks near the Afghan attorney general's office to the west of the city.
Zabihullah Mujahid of the hardline Islamist movement claimed to have killed as many as 18 what he called "hirelings".
The Taliban frequently exaggerate casualties from their attacks and see civil servants as legitimate targets in their battle against the US – backed government.