London: anti-Cameron demonstrators clash with riot police
Comments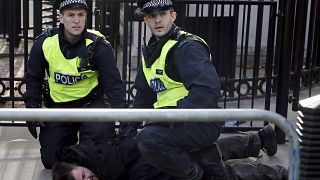 Seventeen people have been arrested during an unplanned protest against the re-election of Britain's conservative prime minister.
Demonstrators clashed with riot police close to David Cameron's Downing Street residence in central London.
Bottles, cans and smoke bombs were thrown at officers, as anger boiled over. Five people were reported injured.
A group of protesters clad in black, sunglasses and face masks were among the crowd.
Cameron won a second term in office in Thursday's election. His government is planning more spending cuts to bring down a budget deficit.