Russia pays tribute to its veterans
Comments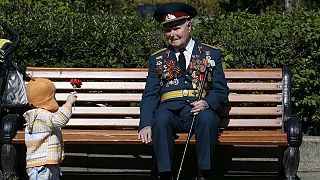 More than a quarter of a million people joined the Immortal Regiment march with people holding pictures of relatives who fought during the war.
"We faced all the hardships and difficulties, there was a lot of it. But we won, we rebuilt our state, brought order to the country. What followed is a different question. So how could I not be happy?," said 87-year-old veteran soldier Ivan Baranov.
Fellow veteran Stanislav Petrakov said it was important to be remembered: "You know for a veteran, the thing that hurts the most is when he is forgotten. I retired from work, I'm 86. I retired from work a year and a half ago. When there is no call, after a long time, from fellow-soldiers and from the organisation where I last worked,I already begin to suffer."
Many Russians consider the West's boycotting of the parade disrespectful; especially as an estimated 27 million Soviet citizens were killed.