Athens street pole vault event reaches new heights
Comments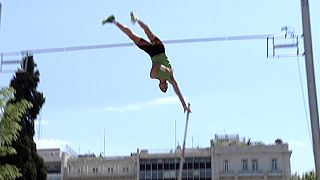 For a 3rd consecutive year, the Greek capital Athens has organized the Athens Street Pole Vault event.
Piotr Lisek from Poland and Kostas Filippidis from Greece were two of the big names taking part.
Emanouil Karalis broke Filppidis' 12-year-old Greek youth record after passing the 5.24m mark.
His idol, the 2014 indoor world champion and best Greek athlete of 2014, finished second with a mark of 5.54m, missing his last attempt at 5.64m.
Filippidis started his season last week, as is the case with most pole vaulters.
"The best European pole vaulters competed here. But it's still the beginning of the season and all athletes need to find their rhythm so as to jump higher," he said.
First place and the Athens Street Pole Vault trophy went to Piotr Lisek. The Pole won the bronze medal at the European Indoor Championships two months ago.
Germany's Carlo Paech was third with the same height as Filippidis but with more failed attempts.
"The Athens Street Pole Vault has drawn passionate fans since it began. The third edition took place in Syntagma square, facing the Greek Parliament. Hundreds of Athenians and tourists watched some of the best pole vaulters in the world," says euronews' Ioannis Karagiorgas.