50,000 people flee Burundi amid violent protests
Comments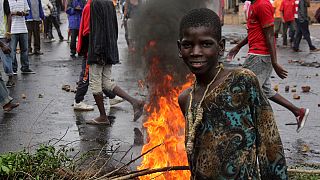 Police on the streets of Burundi's capital have clashed with protesters opposing the president's bid to seek a third term in office.
Two weeks ago, the ruling party announced President Pierre Nkurunziza would stand for a June election.
Since then, at least 13 people have died in protests.
"The police are shooting at us in broad daylight," pointed out one protester. "The army is not helping us. But the protesters are not leaving. We have to stay here and fight."
Coverage of persisting #protests in #Burundi from jeromedelay</a>: <a href="http://t.co/kgXjC4J0fS">http://t.co/kgXjC4J0fS</a> <a href="https://twitter.com/hashtag/Africa?src=hash">#Africa</a> <a href="http://t.co/dsFkwPjaN1">pic.twitter.com/dsFkwPjaN1</a></p>&mdash; APImages.com (AP_Images) May 3, 2015
The president registered with the electoral commission on Friday after the constitutional court said that his first term did not count because he was picked by parliament rather than elected by the people.
It ruled that he could stand.
The UN refugee agency says more than 50,000 Burundians have fled to neighbouring countries Rwanda, Tanzania and Democratic Republic of the Congo.
The United States has threatened visa bans and sanctions against those taking part in the widespread violence.
New video: 50,000 have fled #Burundi over the last month – 25,000 to #Rwandahttps://t.co/VPzjRWxdFo

— UN Refugee Agency (@Refugees) May 9, 2015
On the ground, geoffreyyork</a>'s portrait of protesters in <a href="https://twitter.com/hashtag/Burundi?src=hash">#Burundi</a>: 3 hours of sleep a night and burning barricades. <a href="http://t.co/2fg9ZMehsU">http://t.co/2fg9ZMehsU</a></p>&mdash; reported.ly (reportedly) May 9, 2015