Miliband tenders his resignation after Labour's crushing defeat
Comments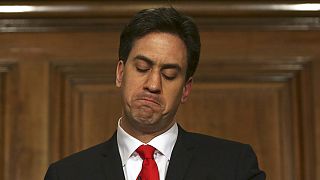 It has been a disastrous night for the Labour party in Britain who suffered a crushing defeat in the election.
In light of his party's poor showing leader Ed Miliband tendered his resignation but vowed to fight on for Labour values.
"Today you all feel disappointed even bleak. But while we may have lost the election the argument of our campaign will not go away. The issue of our unequal country will not go away. This is the challenge of our time. The fight goes on. And whoever is our new leader, I know Labour will keep making the case for a country that works for working people once again."
Miliband's appeal to steer the country to the left did little to persuade the voters and failed to block David Cameron's route back to Downing Street.
Despite running neck and neck with the Conservatives in the run-up to the election, Labour failed to oust Tories in vulnerable seats, and lost all but one of their seats in Scotland.
They are down by 25 seats with 230 overall, which is an even bigger loss than under Gordon Brown's leadership in 2010.
Talk in Scotland was of a seismic shock being dealt to Labour by the Scottish National Party. In constituency after constituency that Labour had held for decades they saw the political landscape shift against them.