Athens re-hires laid off public workers as it seeks more cash help
Comments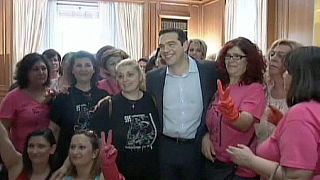 Greece is defying its international creditors and re-hiring thousands of public sector workers, including cleaners.
A law has been passed which will see thousands of people, laid off under cuts, being given jobs.
The move comes as Athens looks to secure more desperately needed financial aid.
"We won't go beyond the limits of our red lines," he said. "It's clear that we cannot cut pensions."
Athens is running out of cash but has dragged its feet on accepting unpopular reforms promised by a previous government.
Negotiations have moved so slowly that the lenders have ruled out an agreement at next Monday's meeting of eurozone finance ministers.