Spanish football federation suspends end of season matches in TV rights row
Comments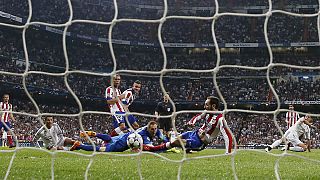 The Spanish football federation has announced it intends to suspend all competitions from May 16.
The strike originates from a disagreement over television rights with the RFEF unhappy with the government over a revenue distribution dispute.
The government passed a law paving the way for collective bargaining over TV rights, a move which could potentially narrow the gap between the revenue received by Barcelona and Real Madrid and the smaller clubs. Currently clubs agree deals with broadcasters individually.
However the football federation is angered by what it sees as government interference in its affairs and also over the proposed distribution of the money.
The suspension could affect the end to the La Liga season with the penultimate round of fixtures due to take place on May 17.
With Barcelona currently two points clear of Real Madrid, the title race faces being left in limbo.
The Kings Cup final between Barcelona and Athletico Bilbao is also threatened.