Germanwings co-pilot 'practised fatal descent' on earlier flight'
Comments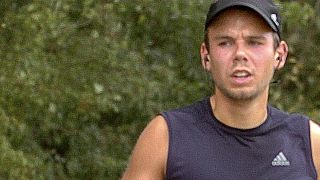 The Germanwings co-pilot suspected of deliberately crashing a plane into the Alps practised the fatal descent on an earlier flight.
The findings come from French investigators who said Andreas Lubitz reduced altitude on
a flight from Dusseldorf to Barcelona several times.
Rémy Jouty, director of French air accident investigation agency (BEA) explained:
"When he was alone, the copilot set the altitude dial to descend to 100ft, therefore he practised the rapid descent that he later used on the second flight. The captain was unaware because the actions of the co-pilot during the first flight occurred during a programmed descent, which obviously had no impact on the plane's trajectory."
Lubitz is suspected of deliberately crashing the jet into the Alps on March 24, killing all 150 people on board after apparently locking the captain out of the cockpit.
Following the crash German investigators discovered that Lubitz had been signed off sick from work that day, and a computer in his home showed he had researched suicide methods in the days leading up to the incident.
The French accident investigation agency (BEA) is due to issue a final report in a year's time which may include recommendations on cockpit doors and the handling of pilots' medical records.