Decision Day in the UK's general election
Comments
By
Euronews
with
WITH LONDON REPORTING BY SARAH CHAPPELL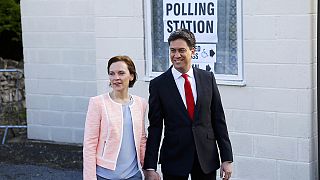 Voters in the UK are going to the polls today in one of the most unpredictable general elections in decades. Despite weeks of campaigning, a hung parliament is on the cards with neither of the two main parties expected to win a majority.
On the final push Conservative Prime Minister David Cameron urged people to look at his government's economic record, while Labour leader Ed Miliband said the choice was between five more years of the Tories favouring the rich or a future where working people are put first.
Both men insisted they were fighting to win outright.
But political experts have put them almost neck and neck with many voters still undecided.
"People aren't overly happy with the Conservative Party at present, but, I think when they walk into the ballot booth, they are going to ask am I really ready for Ed Miliband, or, do I really trust him to run the economy?" said Political commentator Charlie Wolf.
The tightness of the race has thrust smaller parties into the lime light such as anti-European Union UKIP and the environmentalist party, the Greens.
Together with Nick Clegg's Liberal Democrats they could all be courted by Cameron or Miliband for support in bolstering up a minority government.
Meanwhile if Nicola Sturgeon's Scottish National Party (SNP) does almost sweep the board as predicted north of the border it could tip the balance of power in Westminster.
Marginal seats to play key role
M
In the run up to the UK election the Labour party focused on key marginal seats up and down the country. Euronews reporter Sarah Chappell went to one such constituency, Croydon Central in south London where the party was determined to win back the seat it lost to the Conservatives in 2010.
Our reporter asked some locals a few hours before the polls opened which way they thought they might vote.
"The reasons why I am voting for Labour are (that) it has been a long-running family thing. That's not the only reason. The other reason is that I like a lot of their policies," said one resident.
Another was firmly behind David Cameron's Conservatives:
"I'm interested in voting for the Conservatives. Why? They have done a not too bad job of bringing back the economy. They said they were going to do some interesting things, they made a lot of promises. Plus, Labour hasn't done much, in the past they failed miserably," said another voter.
"I'm not too sure," said another, " I'll probably decide very last minute."
While one was just waiting for inspiration: " I think it's just one of those things that when it happens, it'll happen."
More than 45 million Britons are eligible to vote for the 650 seat UK parliament.
Main issues: the economy, the future of the National Health Service, immigration and the European Union

– WITHLONDONREPORTING BY SARAHCHAPPELL