Boxer Manny Pacquiao is sued over alleged shoulder injury
Comments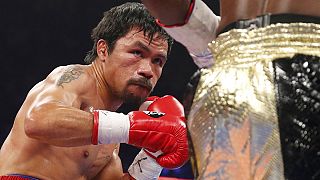 Boxer Manny Pacquiao is being sued in the US.
Two spectators claim his alleged failure to disclose a pre-bout shoulder injury before the "Fight of the Century" on Saturday in Las Vegas amounts to fraud.
Pacquiao lost to Floyd Mayweather in the heavily hyped welterweight showdown which was the top grossing prize fight of all time.
Neither Pacquiao nor his team appeared to have informed the Nevada Athletic Commission about the shoulder issue (as they are obliged to) until a couple of hours before the start of the fight when they asked for an anti-inflammatory injection.