Smaller parties will matter more than ever in upcoming UK parliament
Comments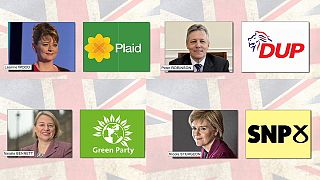 The closest UK election to call since the 1970s is expected not to produce a governing majority for either of the big parties. So here is a look at the possible 'kingmakers', the smaller parties that, if the no majority result is confirmed, will take on more importance.
The Scottish National Party led by Nicola Sturgeon has enhanced its position.
The referendum on Scotland last September did not weaken the party by not prevailing with independence, rather it reinforced the party. Also bolstered by Sturgeon's performance, the SNP is tipped to land more than 40 of the 59 seats Scotland fills in Westminster, up from six today.
Polling analyst Tom Mludzinski explained the nationalists' new ability to rock the parliamentary boat: "The SNP now look likely to be the third-largest party in the House of Commons, overtaking the Liberal Democrats in terms of the number of MPs they have. Therefore, they will be in an extremely strong position as potential kingmakers in any coalition negotiation."
The SNP chief could play a keystone role. Sturgeon's party has already gained ground on the left ceded by the Labour Party, now she reaches out to them.
Sturgeon said: ''My offer to Ed Miliband: if he's prepared to be better than the Tories, then I'm prepared to work with him, to allow him to replace the Tories.''
Plaid Cymru under Leanne Wood's leadership has also grown in stature.
The Welsh Party, while far less influential than the Scots, also hopes to exert leverage in a parliament where only an alliance can govern. The Welsh Party has three seats in Westminster now.
Wood said: "With a strong team of Plaid Cymru MPs we will make sure that Wales' voice is heard loud and clear."
The Green Party led by Australian-born Natalie Bennett is tipped to win 5% of the votes.
It only has one seat in Westminster, and that wouldn't give it more, but it could still rally behind Labour in a multi-party government.
Bennett said: "The Green Party is determined to deliver a fair economy that does not make the poor and disadvantaged pay for the errors and fraud of the banker."
Northern Ireland Democratic Unionist Party leader Peter Robinson is optimistic of winning nine seats, up one from now. Not fond of Labour or the Tories, he has ruled out being in any coalition but this party's support could still be significant, possibly in return for Protestant parade rights and more public spending.
Robinson said: "No single party will be able to command a majority in the House of Commons. That means that our MPs will matter like never before."
Follow election night live from 10pm on May 7 on euronews.com