Texas police probe identity of Prophet cartoon contest suspects
Comments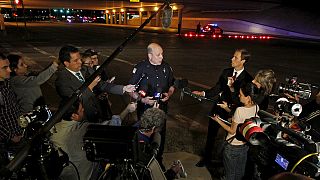 US police say they have shot dead two gunmen who had opened fire outside an event in Texas featuring a contest to draw cartoons of the Prophet Mohammad.
Our concern became the vehicle that they'd come in and possible bombs that may be in that vehicle
According to the authorities, the men drove up to the Curtis Culwell Center in the city of Garland near Dallas and began shooting at a security officer.
Police returned fire, killing the men.
The security officer who the authorities say was hit in the leg was treated in hospital and released. No-one else was injured.
Police said they did not know who the gunmen were or whether they were linked to the event's critics who had branded it un-Islamic.
However a Twitter account named @atawaakul appeared to claim responsibility, using the hashtag #TexasAttack 15 minutes before the shootings took place.
The account, which features a profile picture of the senior al-Qaeda leader Anwar al-Awlaki, who died in a drone strike, also includes a pledge of allegiance to ISIS.
The account has since been removed and has not been authenticated.
Their bodies of the gunmen remained by their car for some time while the vehicle was checked for explosives.
"We started evacuating businesses nearby because our concern became the vehicle that they'd come in and possibly any bombs that may be in that vehicle," said Garland Police spokesman Joe Harn.
Among the speakers at the event, billed as the "Muhammad Art Exhibit and Contest", was the far-right Dutch politician Geert Wilders, who is on an Islamist hit list.
Shots fired at Garland Mohammed cartoon free speech event. I just left the building after speeching. #garlandshooting

— Geert Wilders (@geertwilderspvv) May 4, 2015
The exhibit was organized by Pamela Geller, president of the American Freedom Defense Initiative (AFDI).
In a blog she described the shooting as a war on free speech, asking "are we going to surrender to these monsters?".
Geller's organisation, which is described by the Southern Poverty Law Center as a hate group, has sponsored anti-Islamic advertising campaigns in transit systems across the country.
Exhibitors at the show were competing for a $10,000 prize (8,970 euros) for the best artwork depicting the Prophet Mohammad. Geller said the aim was to promote freedom of expression.
Art depicting the Prophet has sometimes angered Muslims and provoked threats from radicals.
Security had been tight for the event in Garland. Although some saw it as provocative towards Muslims, the authorities allowed it under the constitutional right to free speech.
In January Islamist gunmen attacked the Paris offices of the French satirical magazine Charlie Hebdo in revenge for its cartoons of the Prophet, killing 12 people.