Two gunmen shot dead at art show featuring Mohammad cartoons in Texas
Comments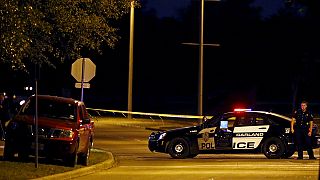 Two gunmen have been shot dead in a shooting incident in Texas.
The men had opened fire outside the Curtis Culwell Center in the city of Garland where an art exhibition featuring images of the Prophet Mohammad was being held.
"I have no idea who they are, other than they're dead and in the street," city police spokesman, officer Joe Harn, told Reuters.
A policeman was injured.
Art depicting the Prophet has sometimes angered Muslims and provoked threats from radicals. Among the speakers at the event, organised by a group which campaigns against Islam, was controversial Dutch politician Geert Wilders, who is on an Islamist hit list.
Exhibitors at the show were competing for a $10,000 prize for the best artwork depicting the Prophet.
In January Islamist gunmen attacked the Paris offices of the French satirical magazine Charlie Hebdo in revenge for its cartoons of the Prophet killing 12 people.
There is no word as to the identity of the Texas gunmen.