New royal baby name pays tribute to Prince William's parents and grandmother
Comments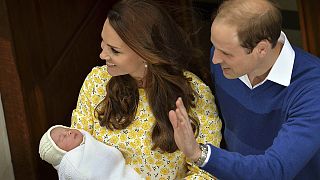 Britain's newborn princess has been named Charlotte Elizabeth Diana. She is the second child of William and his wife Catherine, the Duke and Duchess of Cambridge.
The name is seen as a tribute to Prince William's parents and grandmother.
The baby will be known as Her Royal Highness Princess Charlotte of Cambridge.
The birth of the new princess was marked on Monday with a royal baby gun salute at London's Hyde Park.
Many tourists and Londoners outside the royal residence of Kensington Palace said they were delighted with the name.
"I absolutely love it," said Shelly. "It's what I thought would be the name – Charlotte was picked as one of the top names that they predicted. And of course to have Diana in the name, that's perfect."
"I think it's great," said Phil. "I like Charlotte and the other two names are most appropriate."
"They're managing to pay tribute in a way that's very personal to them and very unique and what's so special about her is that she will be a Princess Diana, continuing Diana's legacy," explained royal author Katie Nicholl. "I know it's a third name, but it's there and it's very significant."
Charlotte, Elizabeth and Diana were all among bookmakers' favourites for the princess.
The last time there was a Princess Charlotte was in the early 1800s, and the name remains popular with the public.