Israeli Prime Minister Benjamin Netanyahu meets with Ethiopian Israelis over claims of police brutality
Comments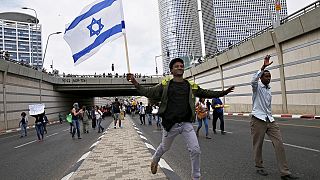 Prime Minister Benjamin Netanyahu is meeting Ethiopian Israeli community leaders on Monday to discuss alleged police brutality. The claims come after Sunday night's police clashes in Tel Aviv.
Police fired tear gas and stun grenades as demonstrators threw bottles and bricks. At least 46 police and seven protesters were hurt and dozens of protesters arrested, officials said.
Tensions heightened after two policemen were seen beating an Ethiopian Israeli soldier. Two officers have been suspended and an investigation launched. Prime Minister Netanyahu has reportedly met the Ethiopian soldier.
The unrest in Tel Aviv followed demonstrations in Jerusalem last Thursday.
Ethiopian Jews were airlifted to Israel in top secret operations during the 1980s and 1990s. There have been longstanding complaints from many of discrimination, racism and poverty.
Mehereta Baruch-Ron, Deputy Mayor of Tel Aviv says she was discriminated against.
" I came to attend an event at the square in Tel Aviv, a policewoman stood at the entrance and asked me who I was. I replied,'I'm the deputy mayor of Tel Aviv, and I need to enter the VIP section'. She told me 'it's good that you didn't find yourself a fancier title' and she didn't let me in."
Israeli president Reuven Rivlin condemned Sunday's rioting but acknowledged the protesters had legitimate grievances.