Freed Nigerian women tell of terror at the hands of Boko Haram
Comments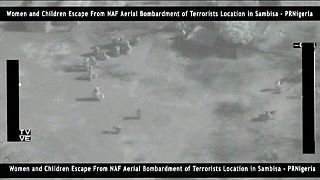 Nigeria's military has issued aerial footage said to show Boko Haram militants fleeing during an operation to push them out of the Sambisa Forest region.
According to the army it has rescued up to one thousand abducted woman and children from the hands of the militants during the past week.
Having been taken to a refugee camp the freed women have been describing their ordeal. They said that when they were initially captured, the militants killed men and older boys in front of them.
"They took me so I could marry one of their commanders. When they realised I was pregnant, they said I was impregnated by an infidel and they killed him. 'Once you deliver in a week's time we will marry you to our commander,' they said. I delivered at night and we were rescued by the soldiers the following morning," said 27-year-old Lami Musa.
Most of the captives including the children had been given little food while being held by Boko Haram and many women had be used as sex slaves or human shields.
Dr. Muhammad Amin Suleiman who is Director of a rescue relief and rehabilitation agency in Adamawa State (ASEMA) was under no illusions as to the trauma suffered by the survivors:
"Even those that were able to escape on their own from their houses, they must have some psychological defects. To say nothing of those that where in captivity for some months, their condition is so terrible."
Amnesty International estimates the insurgents, who are intent on bringing western Africa under Islamist rule, have taken more than 2,000 women and girls captive since the start of 2014.
Of the freed prisoners, none appear to be any of the 200 or more school girls snatched from "Chibok"https://www.youtube.com/watch?v=zEdeH2fJgGo a year ago in an incident which sparked a global campaign for their release.