Yemen: Saudi-led coalition faces claims of ground offensive and cluster bomb use
Comments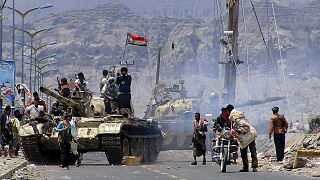 Dozens of Arab special forces soldiers have arrived in the Yemeni port city of Aden, according to the Southern Popular Resistance.
It claims they are deployed alongside local fighters, against Houthi rebels. They are said to be engaged in fighting around Aden airport.
The Saudi-led coalition denies that it has started a ground offensive, but has refused to comment on the possibility of special forces being involved.
Meanwhile, Human Rights Watch (HRW) claims the coalition may have used cluster bombs, which are banned by most countries. The group says evidence suggests they were supplied by the US.
The coalition includes eight other Arab states and is receiving logistical support from America, Britain and France.
It has been bombing Yemen's Houthi militia and allied army units for a month, in an effort to restore the government.
"Credible evidence indicates that the Saudi-led coalition used banned cluster munitions supplied by the United States in air strikes against Houthi forces," HRW said in a statement.
It said it had not been able to obtain information on possible casualties from the attacks.
Saudi Arabia's coalition spokesman was not immediately available for comment.
The Houthis have called on the United Nations to seek an end to coalition air strikes, which they describe as blatant aggression against the country.
Fighting in Yemen is said to have killed more than one-thousand people since the bombings started in late March.