Mayweather snuffs out Pacquiao challenge
Comments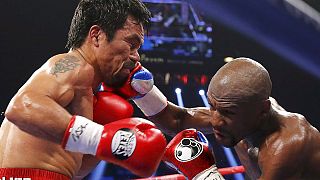 The crowd did not like the result but Floyd Mayweather remains undefeated after 48 fights following his unanimous points decision against Manny Pacquiao.
The Filipino's renowned fury and agression seemed in short supply, and all Mayweather had to do was defend and counter; his superior reach did the rest.
Pacquiao went for broke at the start, and repeatedly had Mayweather on the back foot, but was never able to land a killer blow. Instead Mayweather chose the penultimate round to unfurl all his skills, exposing the limits of Pacquiao's challenge.
Front row seats worth six-figure sums saw the likes of Clint Eastwood, Denzel Washington, Robert de Niro and Donald Trump share the buzz with 16,800 other fans in the stadium.
An estimated 200,000 people flocked to Las Vegas just to be part of the event.