Saudi Arabian-led air strikes hit a residential area of the Yemeni capital Sanaa
Comments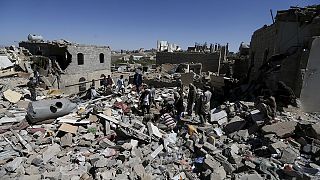 Air strikes by the Saudi Arabian- led coalition struck a residential area of the Yemeni capital Sanaa overnight on Thursday.
On Friday the state news agency Saba said at least 20 people were killed.
Saudi Arabia is leading a Gulf Arab coalition in support of ousted President Abdrabbuh Mansour Hadi, whose regime was overthrown in February by Shia Houthi rebels allied to Iran.
Hundreds of Houthi supporters marched in the capital on Friday to condemn the air strikes, calling them "barbaric".
"The Yemeni people will not back down from their decision to fully achieve their goals," said a Houthi leader, Khaled Al Madani. "We condemn the the aggression against Yemen, the economic siege denying access to food and medicine among other goods, and the aggression against our infrastructure, facilities and neighbourhood."
In the south of the country fighting continued on Friday for control of the port city of Aden.
The clashes took place mainly around the airport.
Although there are no official figures a local militia source said at least 27 civilians were killed as well as fighters from both sides.