Burundi: three killed as violence continues to rock capital
Comments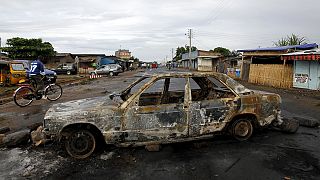 Two police officers and a civilian have reportedly been killed and ten wounded in grenade attacks in Burundi's capital Bujumbura.
It comes as anger continues to rage over the president's decision to seek a third term in office.
Pierre Nkurunziza has warned of "severe sanctions" against those protesting against him.
Many demonstrators say they will not leave the streets until he withdraws his candidacy in next month's elections.
The constitution and peace accord limit the president to two terms in office, but Nkurunziza's supporters say he can run again because his first term, when he was picked by lawmakers and not elected, does not count.
Meanwhile, amid the unrest, Burundi is being hit by a fuel shortage. It has left motorists queuing up for hours at petrol stations.
The government says it has had to raise taxes on fuel to boost revenues, hit by a drop in donor support.
The East African country is facing its worst political crisis since emerging from a 12-year civil war in 2005.
It is being watched closely in a region scarred by the 1994 genocide that killed more than 800,000 people in neighbouring Rwanda which, like Burundi, is divided between ethnic Tutsis and Hutus.