Milan Expo opens to riots on the city's streets
Comments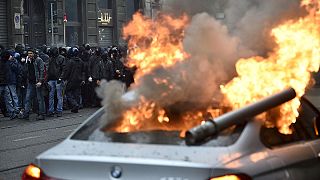 The opening of the long-awaited Milan Expo on Friday was marred by violent clashes between Italian police and protesters.
Police fired tear gas and used water canons in an effort to disperse the rioters, who had broken away form a larger and generally peaceful anti-globalisation protest.
The focus of Milan Expo is on technology, sustainable development and feeding the planet, but demonstrators were clearly disbelieving of the motives of some of the events main sponsors.
"I don't think that big multi-national corporations such as Coca Cola, McDonald's and Nestle are willing to feed the planet," said protester Monica Pope. "For the last 20,30, 40 years they've polluted the environment, like in Monsanto's case where they've introduced Genetically Modified Organisms… they've impoverished entire chunks of rural economies."
The opening ceremony was prone to protest, as many see the Expo as a symbol of waste and corruption.
The event has already faced a corruption inquiry that resulted in several top officials arrested amidst cost overruns and construction hold-ups
The thousands of police on duty signalled the authorities were prepared for disturbances.
It did not help that it opened on May Day, a traditional magnet for protest marches.