Austria: Court refuses to extradite Ukrainian billionaire Firtash to US
Comments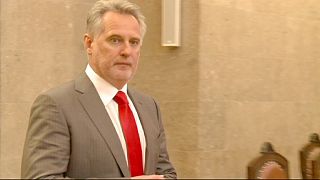 An Austrian court has refused to extradite Ukrainian businessman Dmytro Firtash to the US on corruption charges.
A judge in Vienna said American officials have failed to make a sufficient case of any wrongdoing.
Billionaire Firtash – one of Ukraine's most influential oligarchs – was arrested in Austria a year ago at the request of US authorities, which have been investigating him since 2006.
The 49-year-old was released from detention in March 2014 after posting bail of 125 million euros.
Firtash has maintained the extradition attempt is politically motivated.
"All that I have to say is that I'm pleased with the outcome. I sincerely believed that Austrian justice would treat me fairly, from the start. But I was really worried and afraid because the United States is the United States," he said after his extradition was refused by the court.
"That's why unfortunately I had mixed feelings and was prepared for any decision," he continued.
"But in any case, I knew I'd done nothing wrong. It was clear to me that this case was political."
Firtash told the court that claims he had conspired to bribe Indian government officials to win licenses to mine titanium were "absolutely true."
His legal team had argued that the criminal case intended to exert pressure on an influential man whom Washington saw as a representative of Russian interests in Ukraine and a disruptive factor in its politics.
Speaking from Vienna, euronews correspondent Gergely Bartfai said: "It has been a long session in the courtroom, it took 12 hours before the judge made the decision not to extradite Dmytro Firtash to the United States. The Ukrainian billionaire is free to leave Austria."
The judge said while Firtash could have his passport back and leave Austria, his bail would stay in place until the ruling is legally binding.
That may take some time as prosecutors have filed an appeal against the verdict. Firtash's attorneys said he would remain in Vienna until the verdict was final.
Inter Media, a company owned by Dmytro Firtash, is a partner of euronews' Ukrainian service