German police prevent terror attack, according to media reports
Comments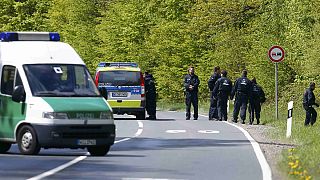 German police have prevented an imminent terror attack after raiding the home of a suspected extremist, according to media reports.
They detained a married couple in Oberursel near Frankfurt overnight on Thursday.
The pair, named as Halil and Senay D by Die Welt newspaper, had been placed under police surveillance several weeks ago after buying unusually large amounts of chemicals.
While searching the apartment, police found a pipe bomb, explosives, a rifle and ammunition as well as tools that could be used to detonate a bomb.
The police said the man was believed to be linked to an Al Qaeda terror network.
One of the suspects had been spotted surveying an area around the town, near the scheduled path of a bicycle race to be held on May 1, though its not clear whether the attack would target the competition.