Calm in Baltimore, but violence erupts elsewhere in the US
Comments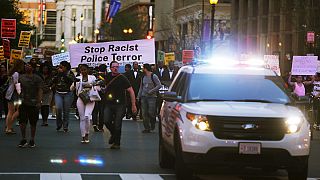 The US city of Baltimore has undergone a second night of curfew.
We will not rest until we get justice for Freddie Gray.
A calm night in Baltimore
With reports of the streets emptying quickly as the shutdown came into effect, Maryland Congressman Elijah Cummings said he was "very proud" of the way locals had responded.
But anger remains over the death of 25-year-old black man Freddie Gray after his arrest by police. As such, 3,000 troops were deployed in the city.
Maryland senator, Catherine Pugh insisted on a full investigation into the incident.
"We will not rest. We will not rest until we get justice for Freddie Gray. We will not rest until there is a full, clear, transparent investigation of our police department as well as the police who were involved in the death of Freddie Gray," she announced.
Gray's death has sparked a US Justice Department investigation into possible civil rights violations.
Violence erupts
While the rioting in Baltimore may have calmed down, violence has flared up in other parts of the US.
In New York, more than 60 people were arrested during protests about racial profiling and use of lethal force by the police.
Smaller rallies took place in Washington, Boston, Houston, Ferguson, Missouri, Seattle and Denver – where a group was also detained.