Baltimore's increasingly marginalised youth find violence in many forms
Comments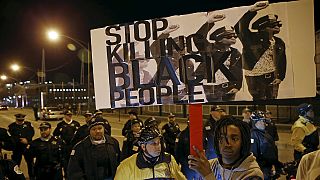 Fifteen buildings were set ablaze, more than 200 arrests were made, 15 troopers were injured, the National Guard was called out and Baltimore imposed a curfew. Then cleanup began.
Baltimore's riots add to the United States' record of violent social unrest in past months.
Again, the common denominator is inequality.
The west coast city within an hour's drive of the White House is the country's sixth largest by population. It has shrunk since 1950, from almost one million to now 620,000 — 63% black.
The riots erupted in Sandtown-Winchester, the neighbourhood where Freddie Gray lived (who died of spinal injuries while in police custody). There, one adult in five doesn't have a job and half the households earn less than 25,000 dollars — the poverty line.
In the world's richest nation, per capita, studies show high rates of adolescent mental health suffering, substance abuse, exposure to violence, notably sexual, and a lack of social support in Baltimore.
New York-based writer Elizabeth Kulze produced an "incisive article about the context":
http://www.vocativ.com/culture/society/baltimore-poverty/ online in Vocativ.
Residents despair.
One woman said: "I'm sad for the young people that are caught up in all of this. I understand that they're angry and they feel like nobody wants to hear them but with Dr. Martin Luther King, he did it peacefully."
Another face of Baltimore shows a renovated port attracting people and investment for the first time in 50 years, and unemployment down near 8%. But not among the poor.
When even admired figures tell young people to get off the streets and that violence is not the answer, it ignores that many youths live with one parent, and they report that safety is not guaranteed even in the home.
Dennis Lynch in the International Business Times also focuses on comparisons of poor pockets of the US with the developing world.
Among 50 major US cities, Baltimore ranks 12th for inequality. That means 11 cities are more unequal, and in all the others the incidence is less bad.
The poverty rate is around 24%, while in the state of Maryland where Baltimore is the largest city, the poverty rate is well below half that, at 9.8%.
President Obama has underscored similarities between Baltimore and Ferguson, Missouri, which ran riot last August, citing "…too many instances of what appears to be police officers interacting with individuals, primarily African-American, often poor, in ways that raise troubling questions."
Obama said: "We can't just leave it to the police. I think there are police departments that have to do some soul-searching. I think there are some communities that have to do some soul-searching. But I think we as a country have to do some soul-searching."