Nationalist Russian bikers visit Auschwitz
Comments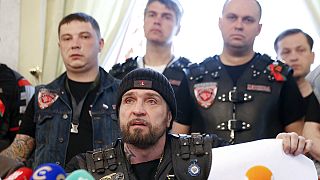 After being barred from riding into Poland members of the Russian Night Wolves bike club arrived by car to visit Auschwitz on Wednesday. They were met there by supporting Polish bikers.
The group, which is known for its nationalist leanings, is attempting to mark the 70th anniversary of the Soviet victory over Nazi Germany by biking most of the way from Moscow to Berlin.
The Night Wolves had been intending to follow the path taken by the Red Army which would have taken in Russia, Belarus, Poland, the Czech Republic, Slovakia and Austria, before reaching Germany.
But the planned road trip through Poland has stirred much controversy because of the group's close association with Vladimir Putin and its support of Moscow's annexation of Crimea and Russian-backed separatists in eastern Ukraine.
They are viewed in Poland as the "Kremlin's Hells Angels".