Ten tons of ivory have been ground into the dust in Dubai as the United Arab Emirates seeks to show smugglers and the world that it is tackling the illegal trade.
The material confiscated in the last two years in the ports and airports of the UAE was collected in a warehouse in Al Qusais, ready to be destroyed.
The UAE authorities have taken action in response to an appeal by IFAW (International Fund for Animal Welfare). In an industrial area of Dubai, under a strong sun and the noise of a huge mill the ivory tusks were shattered.
Then the ivory powder was mixed with the sand from the ground to render the powder unrecoverable, said Mariam Harib, Under Secretary at MoEW , the Ministry of Water and Environment.
"The ivory become dust and return to nature," said Mohammed El Sayed, IFAW Director for the Middle East and North Africa. "The environment and all life should be respected, and this for the benefit of human life on the earth."
But the destruction of confiscated tusks is primarily a message against the poaching of elephants and illegal trade in ivory and underlines the commitment of the United Arab Emirates to the fight against smuggling.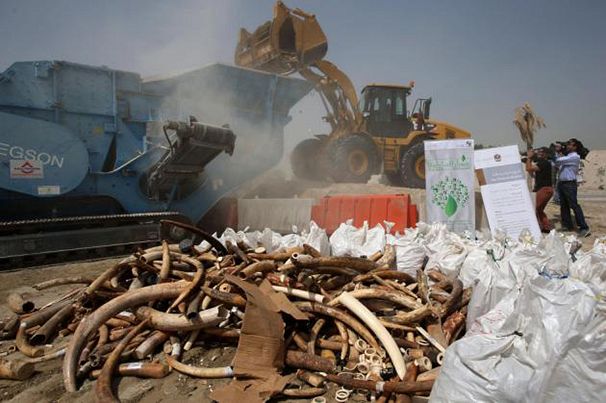 The UAE is not the country of destination, but the crossroads of the main routes that depart from Africa to the Far East and Asia. A strategic location for any business.
Last month in Dubai airport more than 300 pieces of ivory were seized. In 2013 about 260 elephant tusks were found during a routine X-ray inspection of a container shipped from Mombasa, in transit at the free zone of Jebel Ali port.
The IFAW (International Fund for Animal Welfare) estimates that a kilogram of raw ivory in Asia is worth 1,800 euros on the wholesale market, and the retail prices are higher.