Violence erupts in Baltimore over death of Freddie Gray
Comments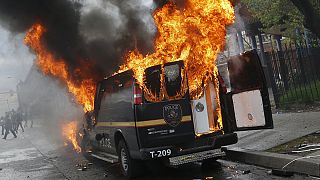 A state of emergency has been declared and the National Guard activated after the US city of Baltimore erupted in violence on Monday.
Hundreds of rioters looted shops and burned buildings following the funeral of a 25-year-old black man called Freddie Gray who died after he was injured in police custody.
At least 15 police officers were injured in direct confrontations with the gangs of youths.
Maryland Governor Larry Hogan announced the emergency measures including the imposition of a curfew beginning Tuesday night.
"I've not made this decision lightly. The National Guard represents a last resort in order to restore order. Look, people have the right to protest and express their frustration, but Baltimore city families deserve peace and safety in their communities."
Gov. Hogan declares state of emergency in Maryland as protests grow violent. http://t.co/5kZRyIg4PI#BaltimoreRiotspic.twitter.com/Qjtc1gMo4K

—

CNN

Breaking News (@cnnbrk) April 27, 2015
Gray's death latest at the hands of police
Freddie Gray was arrested on April 12 when he fled from police in a high crime area. He was carrying a switchblade knife, and he was put inside a transport van to be taken to a police station.
At some point, Gray suffered a spinal injury that led to his death a week later. Two officers have been accused of failing to belt him into his seat securely and of not giving him timely medical attention.
Gray's death has sparked days of street protests and raised tensions in Baltimore. His family however has condemned the violence.
The killing of several unarmed black men by white police officers in recent months and decisions by grand juries not to indict the officers have triggered large-scale protests across the United States.